Partner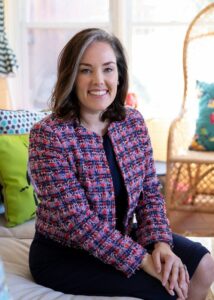 Phone: (804) 320-0422,14
Email Morgan Blackwood

Morgan joined BDC in 2018 after an active tenure working for one of DC's most active real estate private equity groups, The Meridian Group. At the Meridian Group, Morgan led activities related to the tenant experience – interior design, amenities, services, technology, branding, leasing & marketing -for 5 million square feet of commercial, residential, hospitality & retail assets. She played a role in the launch of The Boro, one of the largest privately held developments in the country, an over 4.5 million square foot project in Tysons, VA. She also founded and runs, Greystreak, an asset management, design & branding consulting firm focused on commercial and mixed used developments.
At BDC, Morgan is a driver of the move into larger mixed used developments leveraging her asset management, design & operational experience.
Morgan holds a degree in Industrial & Systems Engineering from Virginia Tech and an MBA from Harvard. She is currently a tri-chair in the Campaign for Virginia Tech, Beyond Boundaries.
Outside the office, you can find Morgan: chasing her toddler, spending time in hiking or at the beach, enjoying the latest restaurant hot spot or traveling.