President & Founder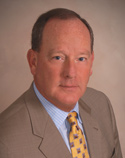 Office Phone: (804) 320-0422,12
Email Willis Blackwood
Willis has a passion for taking raw land and creating high quality, aesthetically pleasing new projects that harmonize with their surrounding communities. His illustrious career in development is motivated by his appreciation for the art of making deals.
Willis spent seven years in Corporate Real Estate with Safeway Stores, Inc., when Safeway was recognized as one of the best training grounds for people in Corporate Real Estate. Following his work with Safeway, Willis opened the Richmond office for SL Nusbam Realty in 1981 and was involved in property management, leasing and new developments of more than one million square feet of retail space. He founded Blackwood Development Company in 1988.
Willis holds a B.S. in Business Management from Virginia Tech and an M.B.A. from Virginia Commonwealth University. A native of Loudon County, VA, Willis moved to Richmond in 1973 and now splits his time between Richmond and Florida.
Outside the office, you can find Willis: playing golf and tennis, watching college sports, cooking and volunteering real estate expertise to charitable organizations.